Showcase
The Capita D.O.A.
The Capita D.O.A., an abbreviation for "Defenders of Awesome", is more than just a catchy name; it represents a snowboard that has carved its reputation across terrains and borders. Designed for those who seek versatility, performance, and style, the D.O.A. offers a ride that can handle any challenge thrown its way.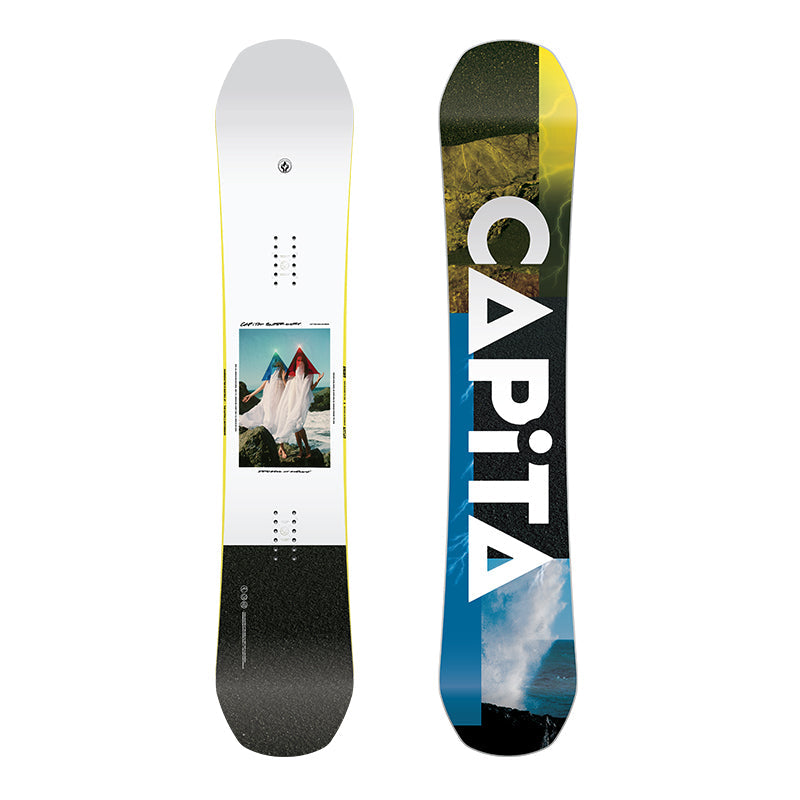 The D.O.A. is an all-mountain board, tailored for those looking to conquer groomers, powder, and the park with a single piece of equipment. Its true twin shape ensures that riders can execute switch moves with as much ease as they would regular. A significant highlight of this board is its hybrid camber profile, which combines the best attributes of both camber and rocker. This not only provides the board with the lively pop often associated with camber boards but also ensures that it remains playful and forgiving, traits synonymous with rockers.
In terms of construction, Capita has equipped the D.O.A. with an FSC certified wood core. This guarantees riders a dynamic flex combined with the robustness to endure the challenges of intense snowboarding sessions. Furthermore, the board features steel edges, ensuring precise edge control, even under icy conditions.
Purchase it from Shreddington Snow
If the Capita D.O.A. has piqued your interest or you're already convinced of its prowess, the best place to procure this snowboard is through Shreddington Snow. They offer an online store for those who prefer digital shopping. However, if you happen to be in Helsinki, their physical store is a haven for snowboarding enthusiasts.
Shreddington Snow is not just another snowboarding shop; it's a specialty store. Here, experts are on standby to assist you in choosing not just the perfect snowboard, but also the right bindings and boots. Whether you're a novice or a seasoned snowboarder, the professional team at Shreddington ensures you derive the maximum value from your purchase.
The Capita D.O.A. snowboard is tailored for those riders who demand a board that can keep up with their diverse snowboarding needs. Its range of features makes it an excellent choice for a wide array of snowboarders. When you're ready to make that purchase, Shreddington Snow stands out as the go-to destination for expert advice and unmatched service.
CAPiTA DOA snowboards from the online store
See all