Lumilaudat
Lumilautailu on maailmanlaajuinen intohimo, joka yhdistää monenikäisiä ja -taustaisia laskettelijoita. Olipa kyseessä nuori, aloittelija tai kokenut laskija, oikean lumilaudan löytäminen on ensisijaisen tärkeää. Tässä esittelyssä käymme läpi miesten, naisten ja lasten lumilautoja sekä niiden erilaisia muotoja ja tarkoituksia.
Muutamia esimerkkejä miehille:
Bataleon: Tämä brändi on tunnettu 3BT-muototekniikastaan, joka tarjoaa erinomaista hallintaa ja monipuolisuutta.
Capita: Capita laudat, kuten "Defenders of Awesome", ovat suosittuja niiden kestävyyden ja suorituskyvyn vuoksi.
Rome SDS: Rome tarjoaa laajan valikoiman, mukaan lukien "Agent" malli, joka on monipuolinen allmountain-lauta.
Muutamia esimerkkejä naisille:
Bataleon: "Feelbetter" on suunniteltu erityisesti naisille, antaen lisää joustavuutta ja hallintaa.
Capita: "Birds of a Feather" on monipuolinen lautamalli, joka soveltuu niin puuteriin kuin parkkiinkin.
Rome SDS: "Lo-Fi" on suosittu allmountain-malli, joka yhdistää suorituskyvyn ja tyylin.
Muutamia esimerkkejä lapsille:
Bataleon: "Minishred" on täydellinen lautamalli nuorimmille laskijoille, sillä se on suunniteltu lasten tarpeet huomioiden.
Capita: "Micro-Scope" on joustava ja kestävä, erityisesti pienemmille laskijoille.
Lumilaudan muodot
Lumilaudoissa on erilaisia muotoja, jotka vaikuttavat laudan suorituskykyyn eri maastoissa ja olosuhteissa:
Camber: Klassinen muoto, joka tarjoaa hyvän kanttipidon ja ponnistusvoiman.
Rocker: Tämä muoto on loistava puuterilumessa, sillä se nostaa laudan nokkaa ja takapäätä, vähentäen uppoamista.
Flat: Yhdistelmä camberin ja rockerin ominaisuuksia.
Lumilaudan käyttötarkoitukset
Allmountain: Monipuolinen lautatyyppi, joka soveltuu kaikkiin olosuhteisiin ja maastoihin.
Park: Näissä laudoissa on usein twin-tip muoto, joka soveltuu hyvin temppuihin ja hypyille.
Puuteri: Nämä laudat on suunniteltu erityisesti syvään lumeen. Ne ovat usein leveämpiä ja niissä on rocker-muoto.
Split-laudat: Nämä laudat voidaan jakaa kahteen osaan, mikä tekee niistä ihanteellisia backcountry-lasketteluun.
Lumilautailu on monipuolinen laji, ja oikean laudan valinta voi tehdä kokemuksesta entistä paremman. Olipa maastosi parkki, puuteri tai vuoristo, on olemassa lauta, joka sopii tarpeisiisi.
Muutamia lumilautoja verkkokaupasta
View all
Save €300,00
Save €199,00
Save €249,00
MERCURY
Sale price

€370,00
Regular price

€619,00
Save €174,00
Save €165,00
Save €189,00
PARADISE
Sale price

€280,00
Regular price

€469,00
Save €169,00
Save €139,00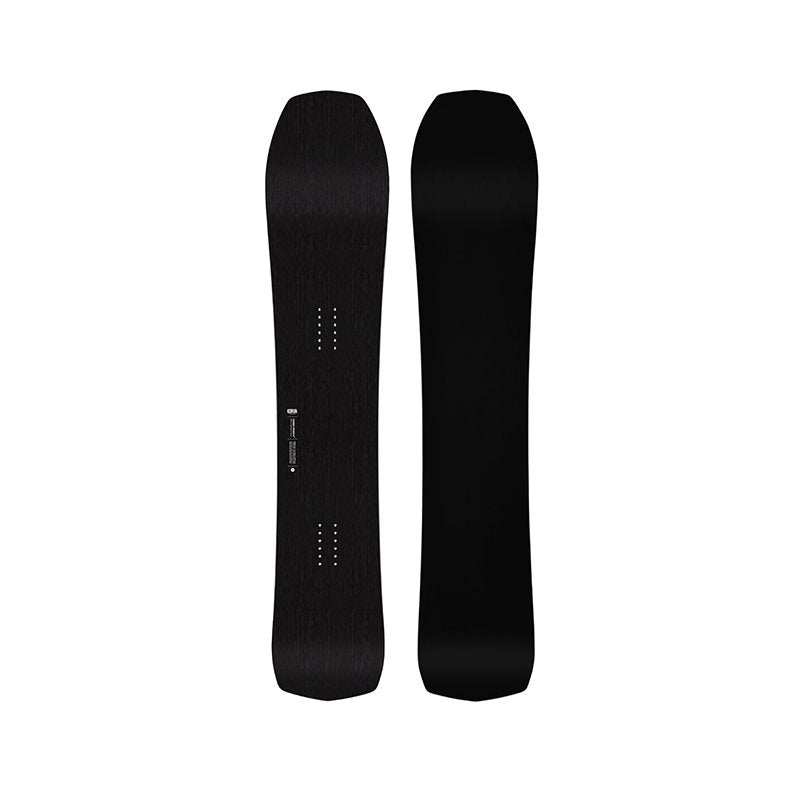 Save €104,00
Save €99,00
MINISHRED
Sale price

€150,00
Regular price

€249,00
Save €305,00
Save €325,00