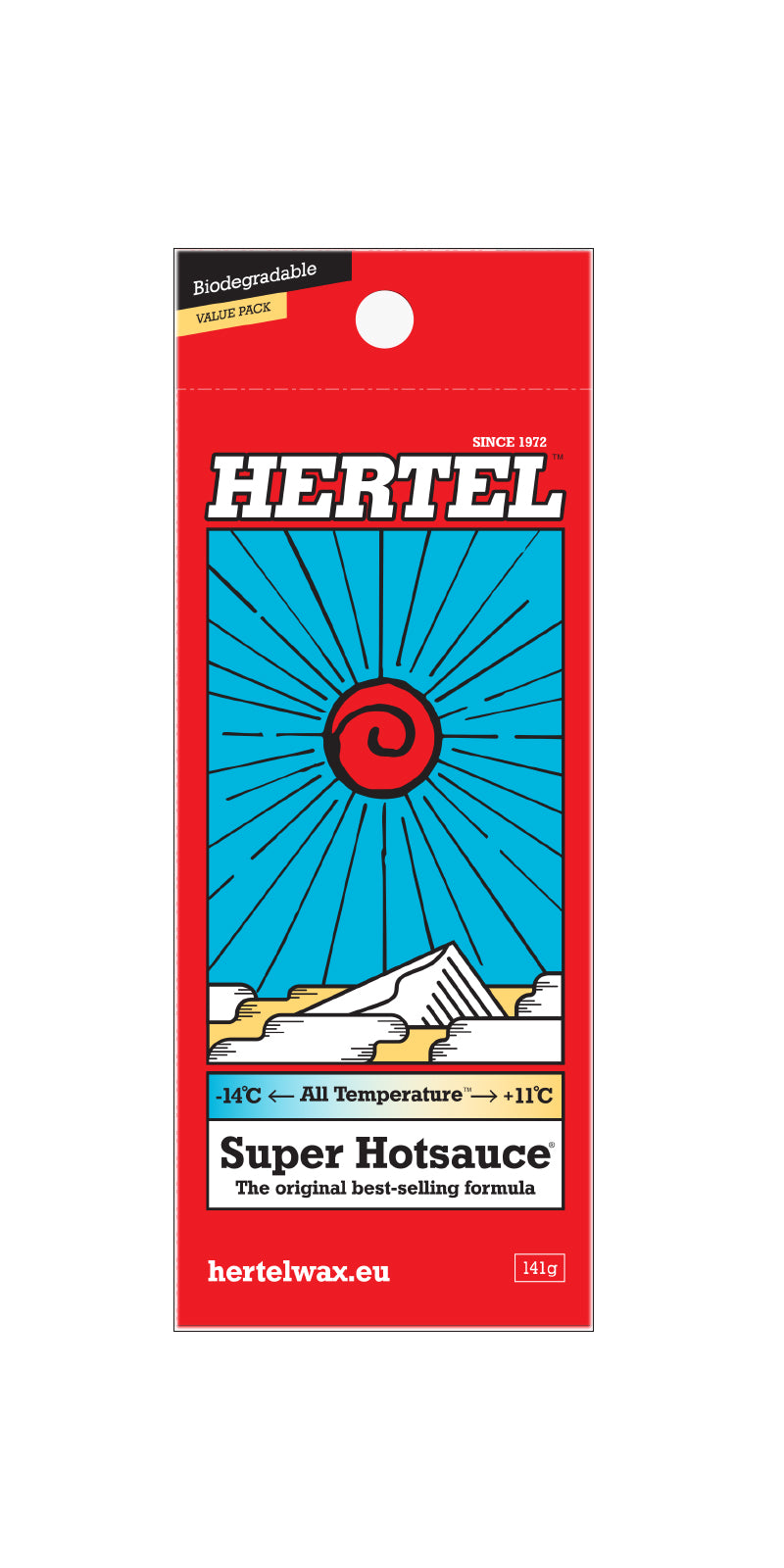 Super Hot Sauce® 141g The only true all temperature wax, from -14C to +11C
---
NOW WE HAVE IT!

We are the first shop in Europe to provide the best wax on planet earth. As a super Limited edition!

Super Hot Sauce® is our first and still best selling snow wax invention that has changed the way people think about wax. The only true all temperature wax, it delivers a premium performance every time! Great from -14C to +11C. Iron it on for best results, or rub it on if you don't have time. 100% biodegradeable. This is all you need.

Hertel waxes penetrate the base of your skis/snowboard so well that we don't need any wax to prep the base. Don't waste your money on base waxes!

If your friends are using brand x, get the Hotsauce, Spring Solution. If your friends are on the Hotsauce, get the Racing!

Instructions

Hot waxing:

1) Make sure the base is clean

2) Heat iron to 90 degrees Celsius (a bit higher if you use wax paper).

3) Melt wax onto base of ski/snowboard and spread it evenly. Do not keep the iron in one place.

4) Scrape while warm. You can let the wax cool to room temperature and then scrape, but you'll just need more elbow grease than if it's still warm.

5) Buff/rub down/smooth out with a fibretex pad.

6) Enjoy the time you save not having to wax and scrape your base 20 times with different base and glide waxes of different colours.

Rub on:

1) Rub on.

2) Rub base vigorously with a cork. Note: hotwaxing will last longer.

Caution: Only use this wax for skis or snowboards. Wax in a well ventilated area. Do not heat the wax until it smokes. Keep out of reach of children and pets. Do not eat. If you get some in your eyes, rinse with water. If irritation persists, please seek medical attention.

Good for 3 to 4 hot waxes per piece, or countless races if just rubbing it on.