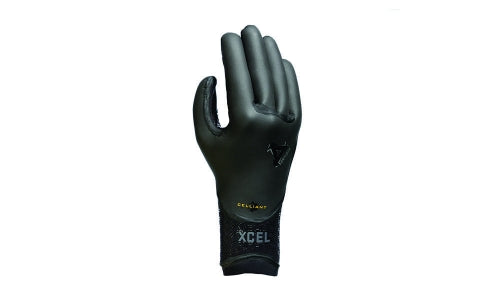 Drylock TDC 5-Finger Glove 5MM
---
XCEL DRYLOCK TDC 5-FINGER GLOVE 5MM

 

Summary

Our most advanced surf glove, the Drylock features revolutionary TDC Thermo Dry Celliant, our warmest inner lining ever. TDC features mineral-enhanced smart fibers that recycle body heat into infrared energy for greater warmth, increased endurance, faster recovery, and enhanced overall performance. The exclusive, seamless, tapered Drylock wrist seals form the ideal fit with your wetsuit and help prevent flushing. Full "Gripper" palms ensure great traction and grip; the Texture Skin outer back hands provide excellent wind resistance. 100% UltraStretch neoprene, with glued & blindstithed seams sealed with outer Taitex for maximum warmth.





TDC Thermo Dry Celliant Low Pile




Fast drying, lightweight, and naturally hydrophobic, TDC is our warmest wetsuit lining ever, and an Xcel exclusive found nowhere else in the market. TDC's clinically proven Smart Fiber Technology converts your body heat into infrared energy for maximum warmth, increased endurance, faster recovery, and enhanced overall athletic performance. The infared printed low pile TDC delivers the ideal balance of warmth and flexibility.





UltraStretch Neoprene




Comfortable, lightweight neoprene with softer foam and a tighter weave textile for less water absorption, better durability, and maximum stretch.





Texture Skin




Texture embossed rubber that provides excellent wind resistance; ideal for outer chest panels hoods, and other areas that would otherwise lose warmth quickly.